I found the venue of my dreams! These pictures don't really do justice (stupid cell phone), but it is gorgeous and affordable. And the owners are super nice!
Gazebo and pond. In the spring, I'm going to have some of our engagement pictures done utilizing this spot!
The "tree house". Can be used for the bride or groom to get ready beforehand.
Inside the barn will be the reception.
The pavilion, where the ceremony will be, with a view! It will be perfect in October with all of the fall colors!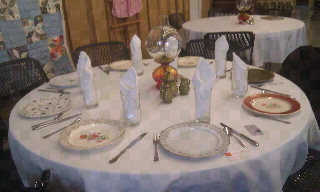 Sample table set-up. The venue provides all of the dishes, glasses, tablecloths.
The walkway (looking from the pavilion).
Another view of inside the barn
I'm super excited about it!! Now I can actually start planning!